appId: '133920576675850'Web analyzer: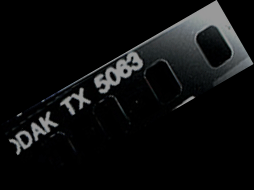 Bill Wayman - Owner

AV Systems of Maine |Bowdoinham, Maine 04008

Phone: (207) 666-8966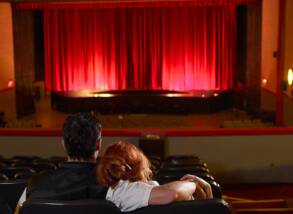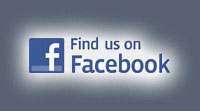 Copyright 2011: AV Systems of Maine. Maine Home Theater. All Rights Reserved.

Klipsch Dedicated Custom Maine Home Theater
Whether you type it  Maine Home Custom Design Theater, Maine Custom Home Theatre,  Dedicated Maine Home Theater, or just "Really Big Maine Home Theater", it all comes down to the same thing; "I want the theater experience and a 50" or 60" TV just ain't gonna cut it."

Then that voice in your head talks to your pocket book and says "Not happening, better go buy some lottery tickets" Not quite so fast. for those of you who have looked at the
Art Deco Theater Project
, you know that this does not have to be the case. Prices on projectors have come down to the range of that 60" TV and picture can be as good as, or frankly better, than that TV.
This time Mr Peabody has set the wayback machine to North Central Maine for a install that the customer has wanted ever since he bought the house. In fact, he says one of the reasons he bought this house because of this room. As with almost all of our installs, we examined the existing equipment & speakers and expanded the system with those pieces in mind.

Room specs: 12' high, 30' deep, 16' wide with sloping ceiling at sides. 3rd floor.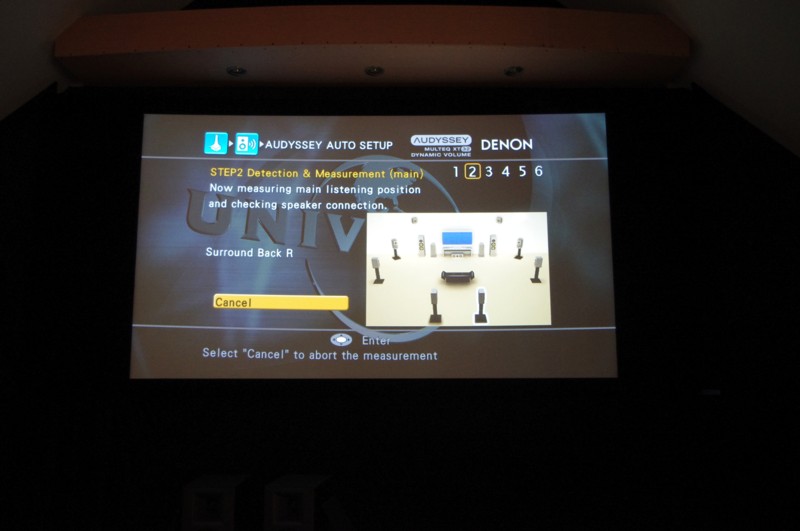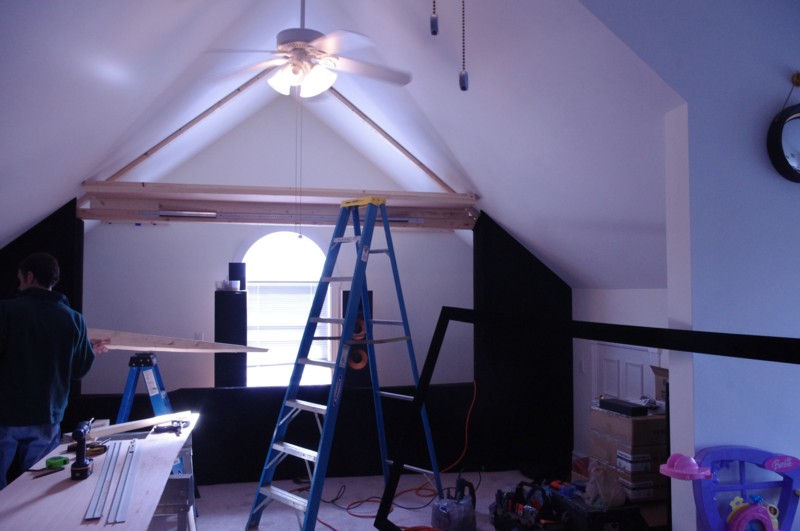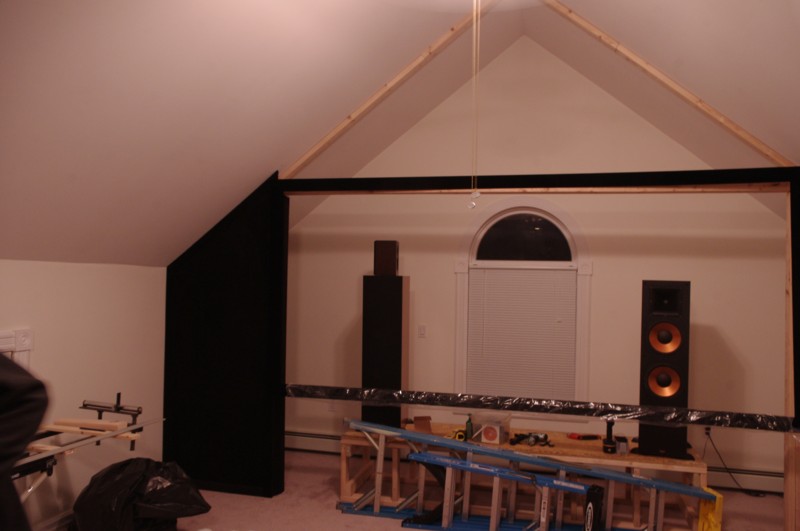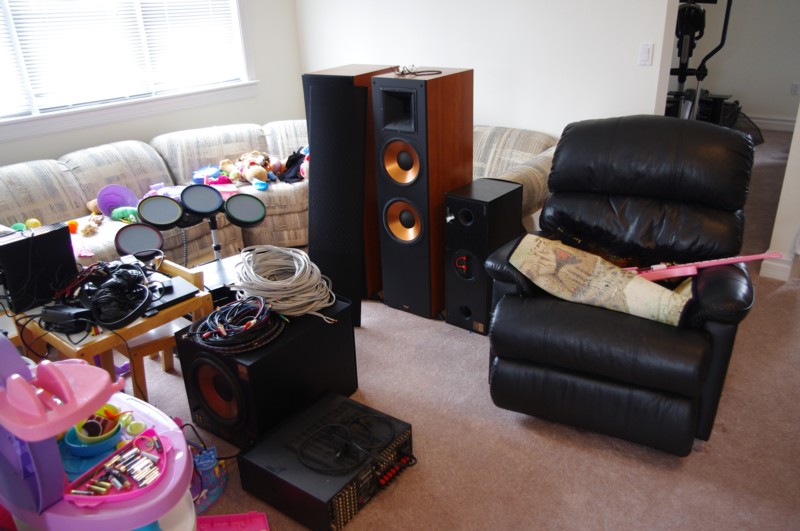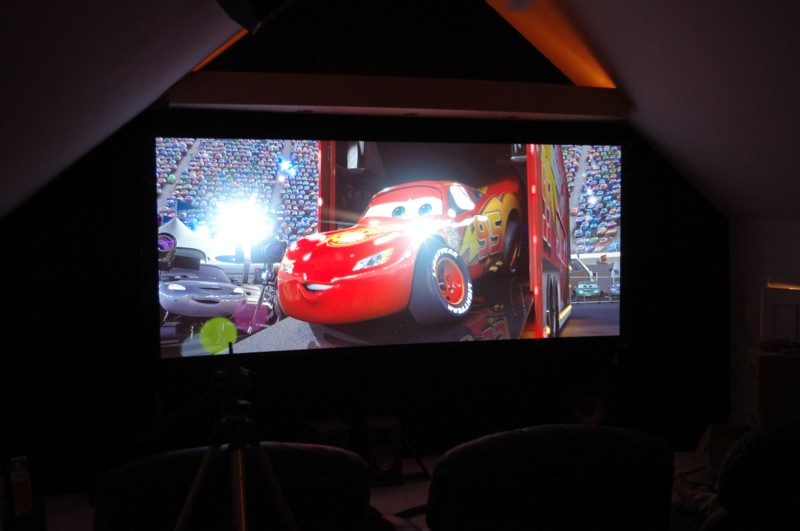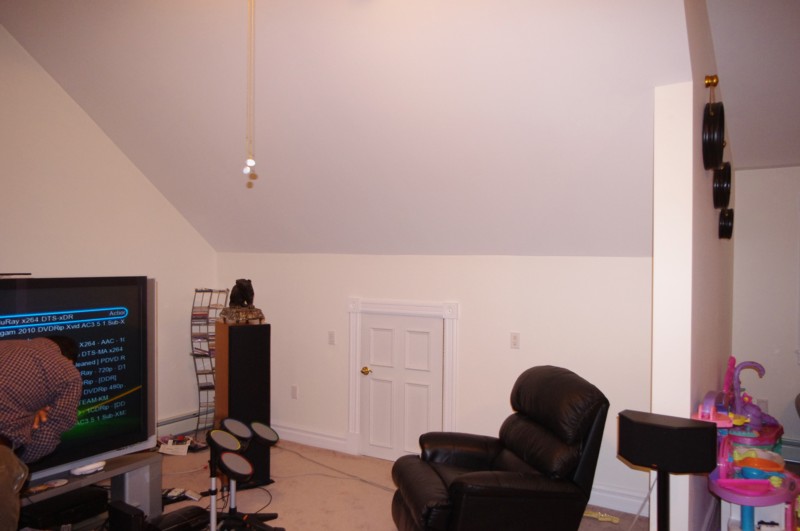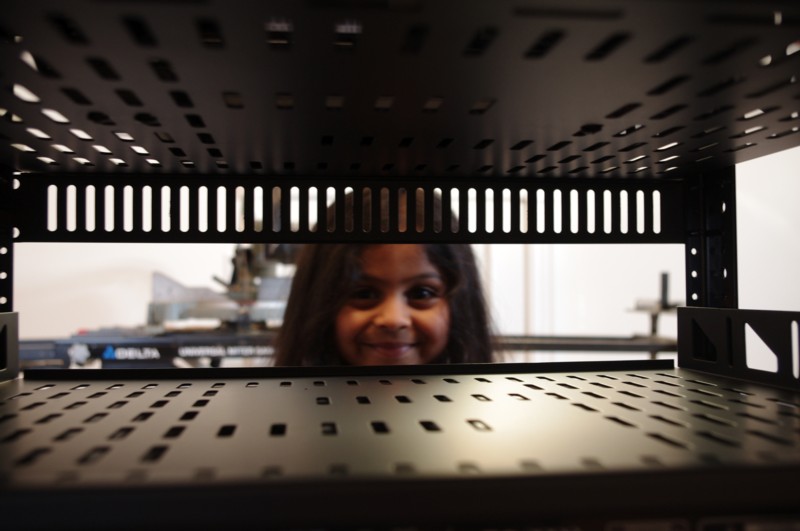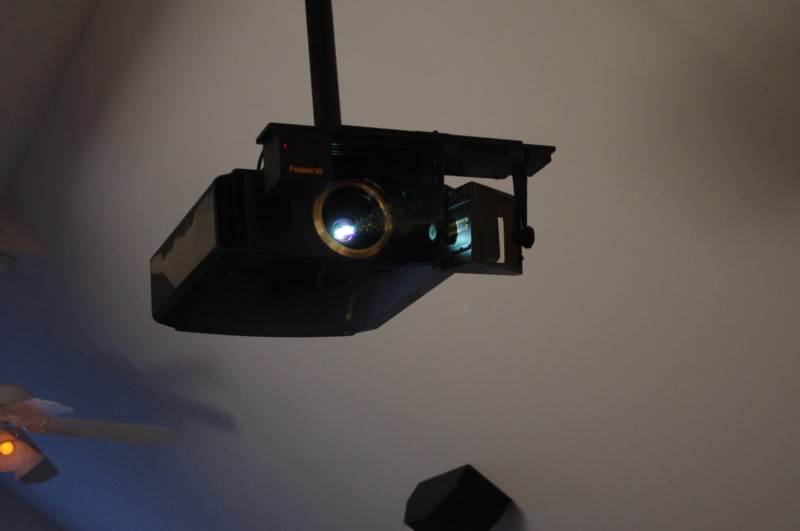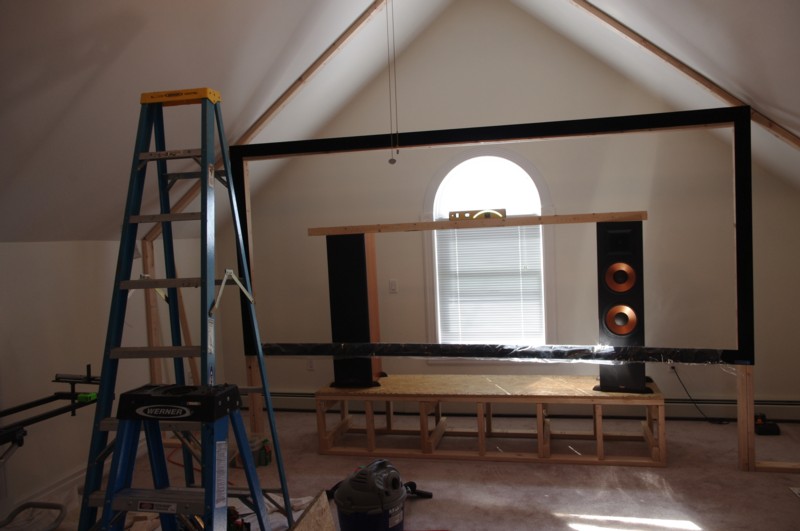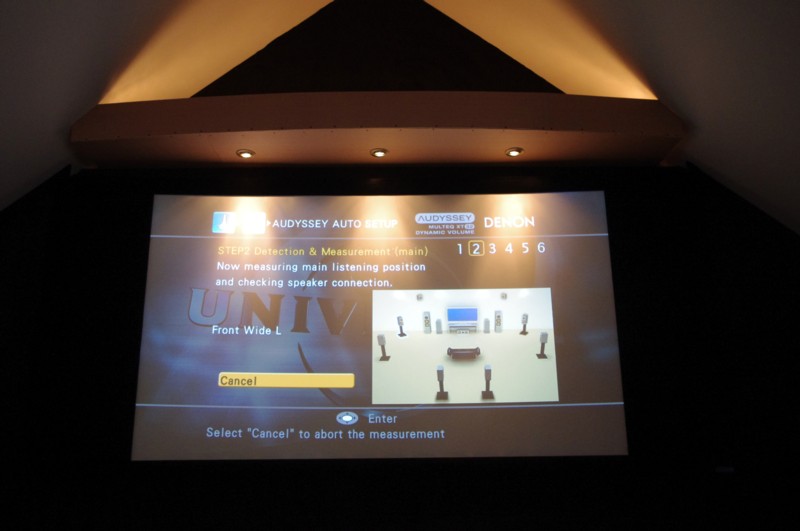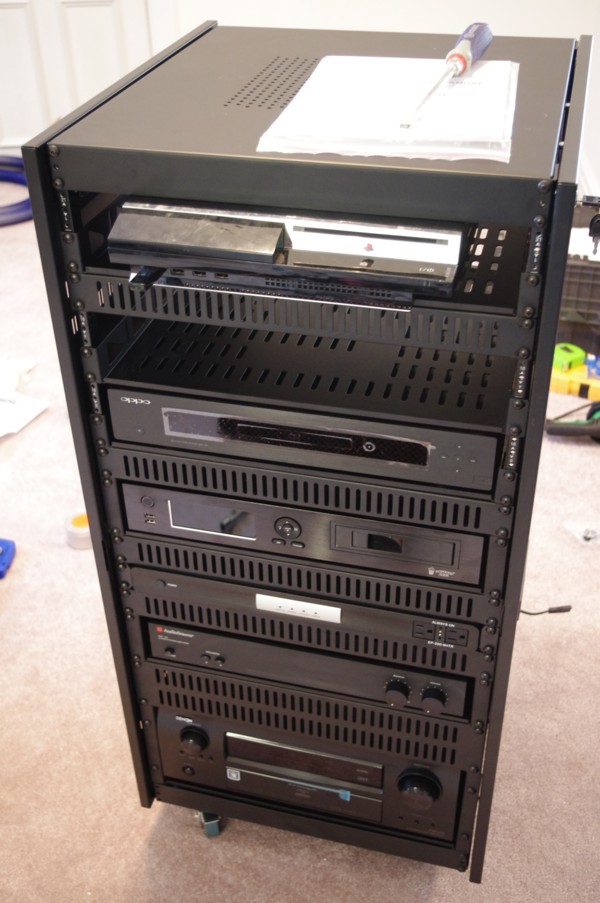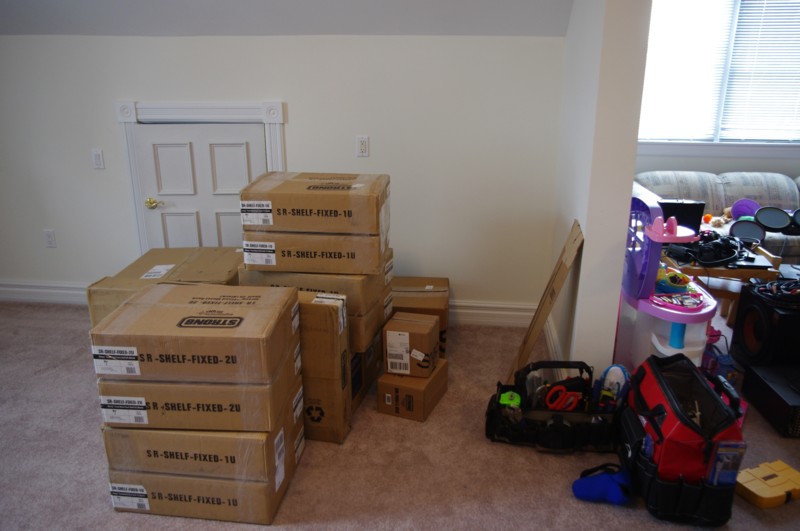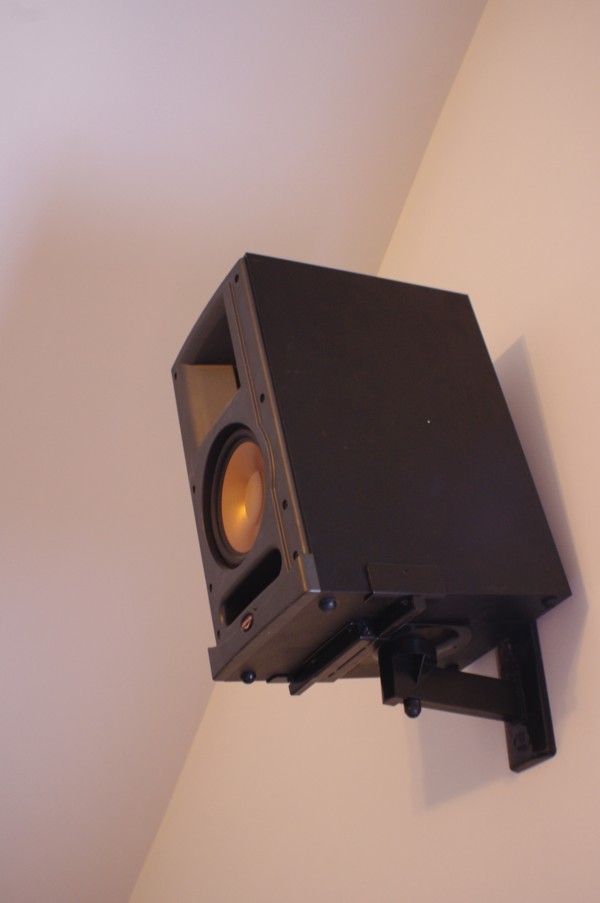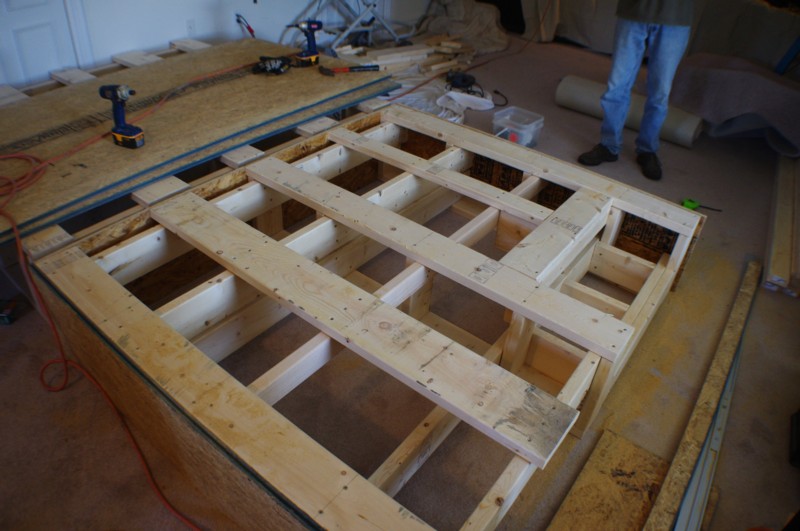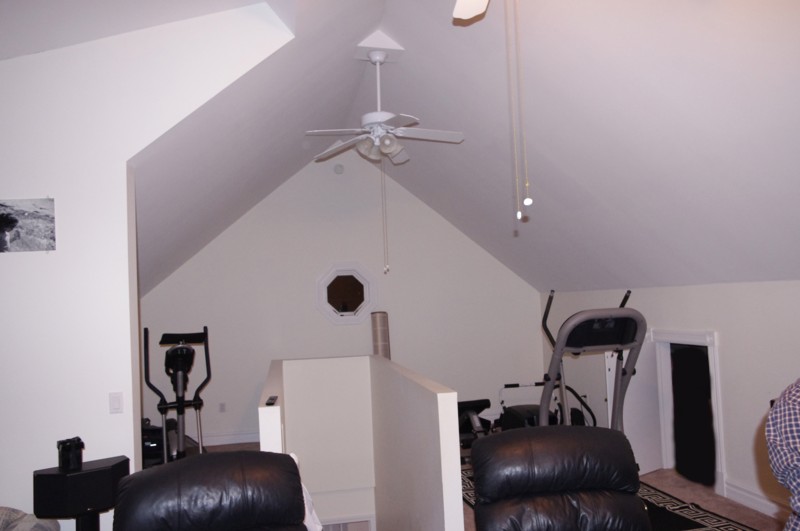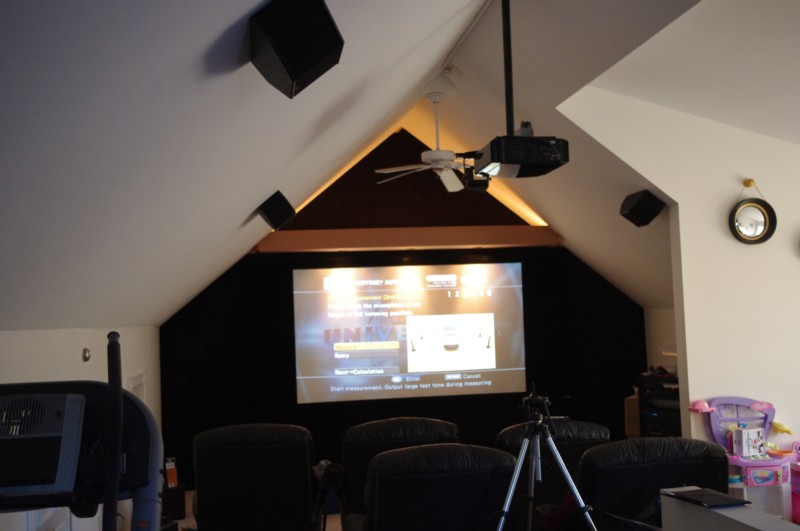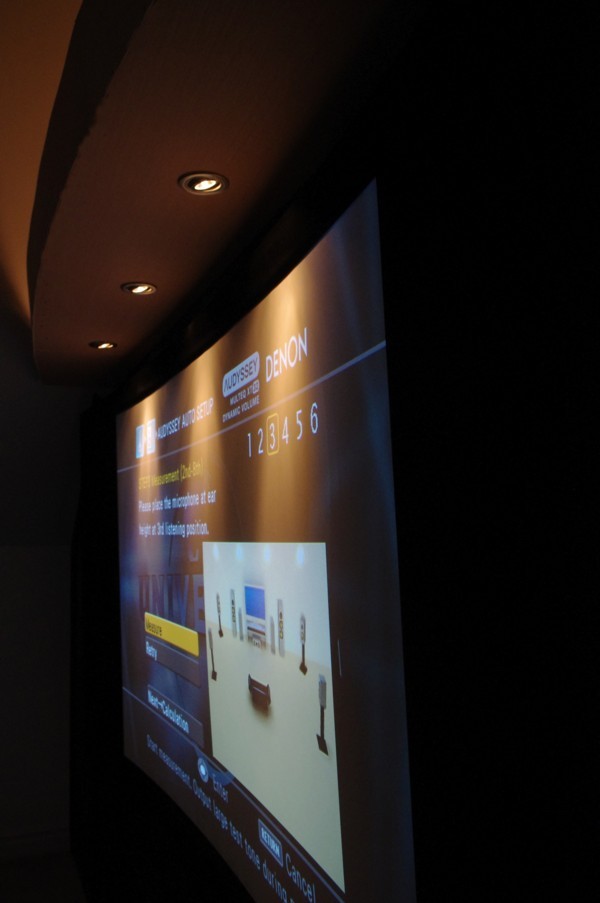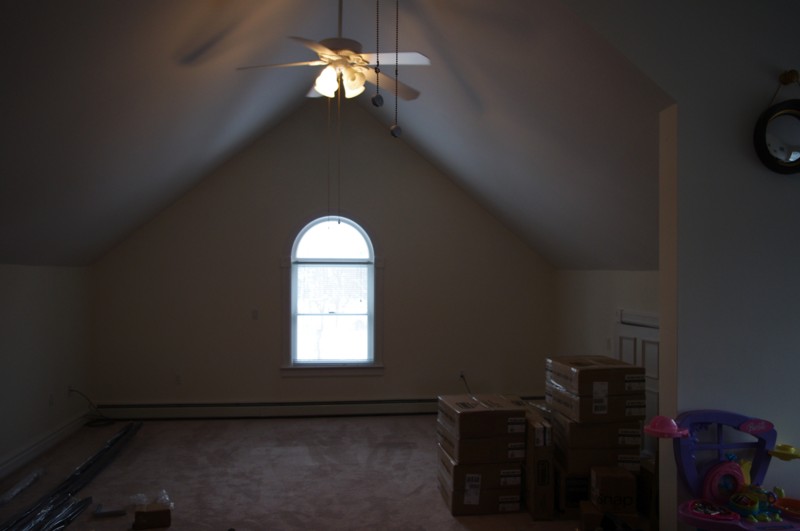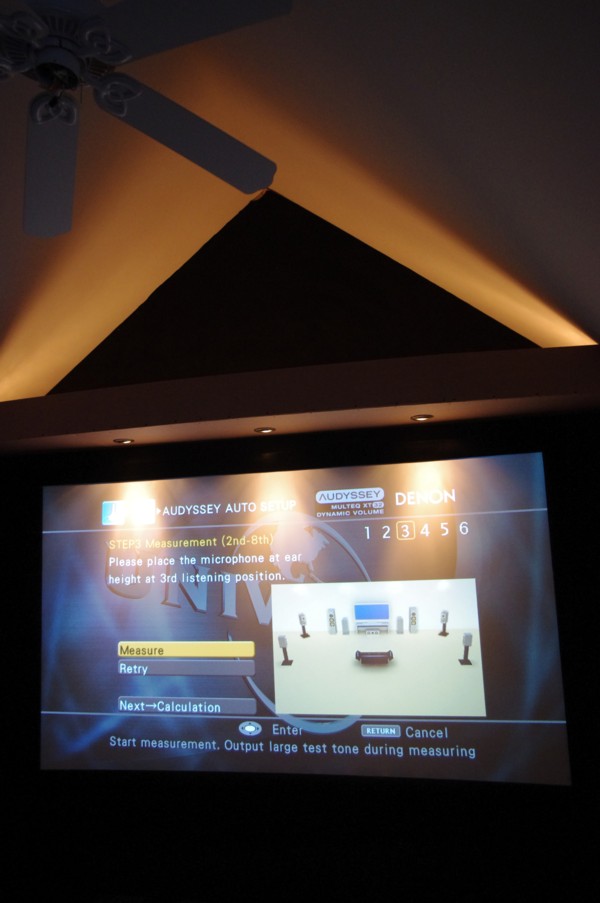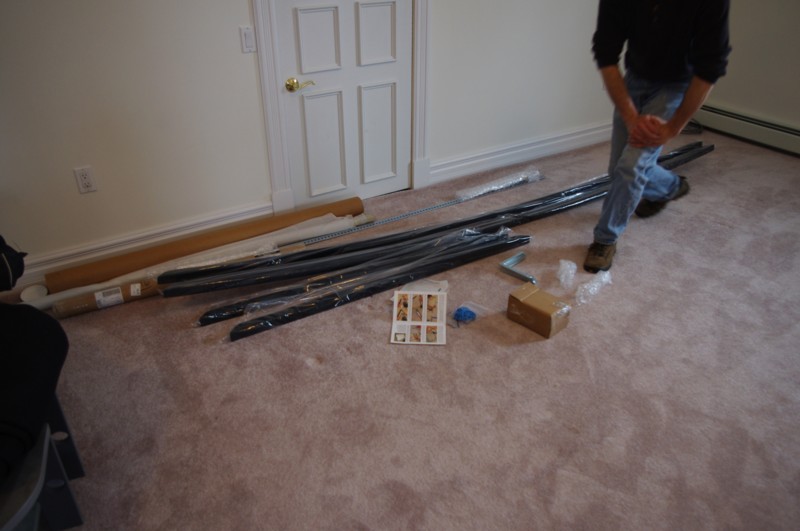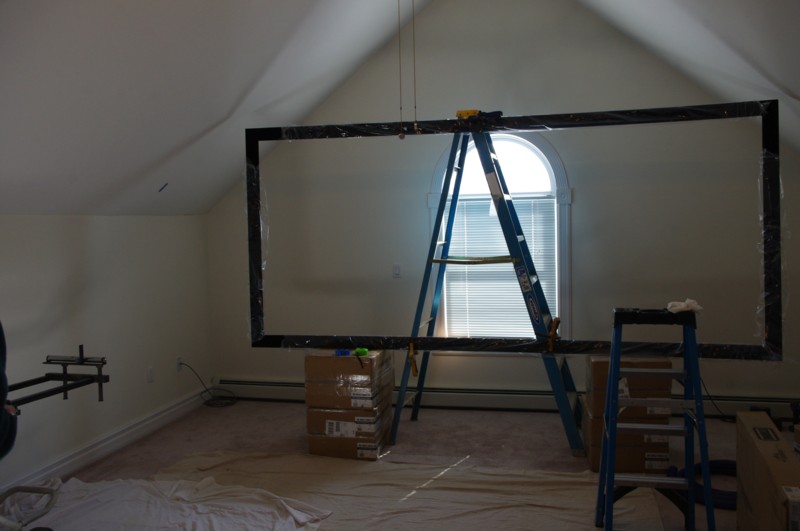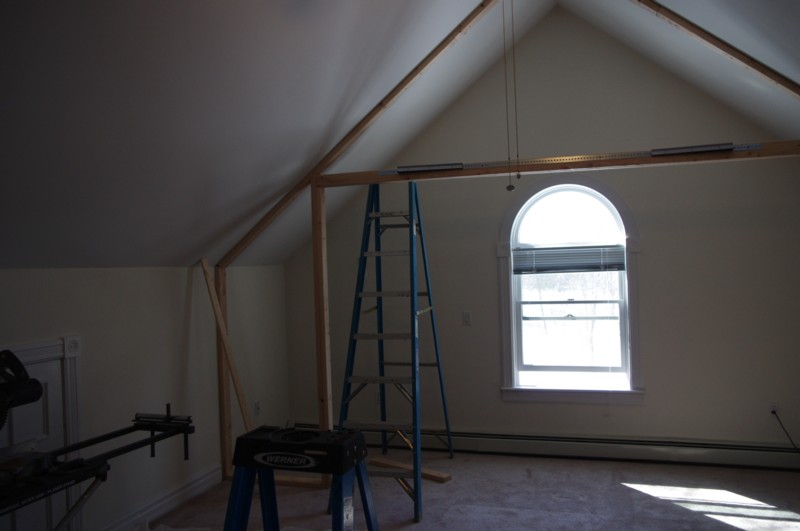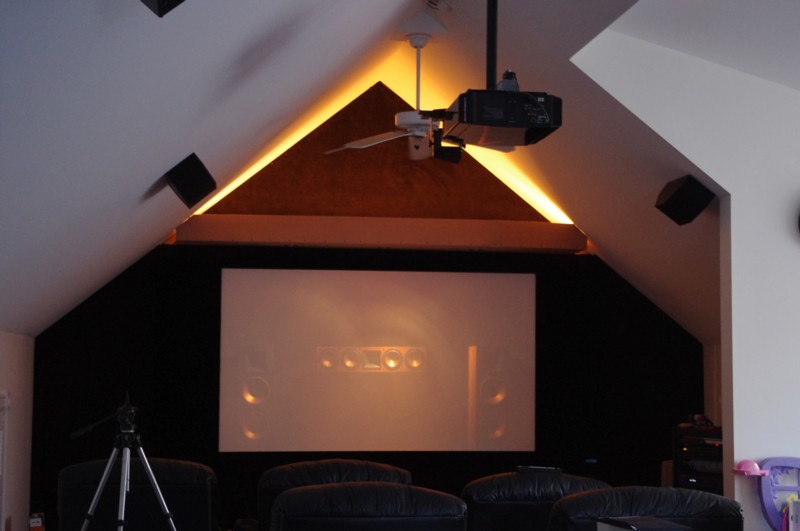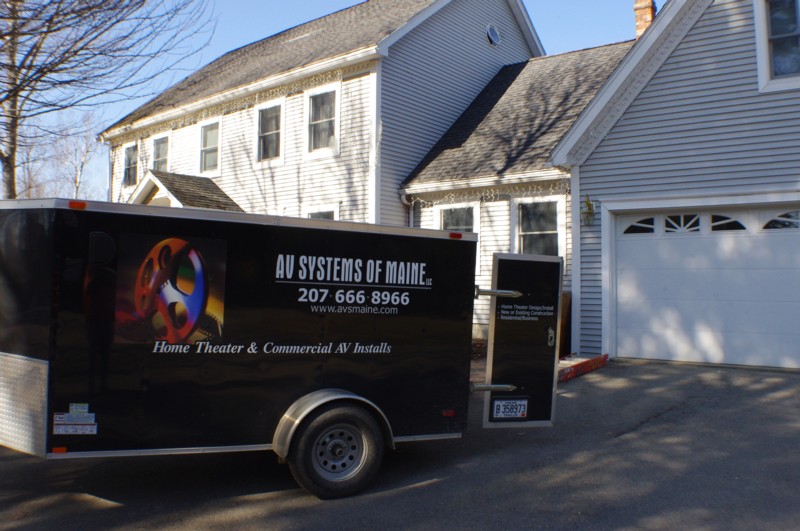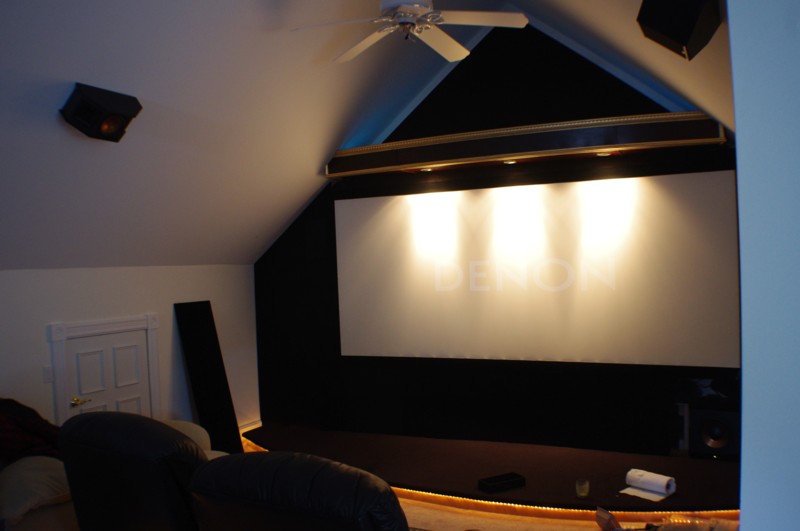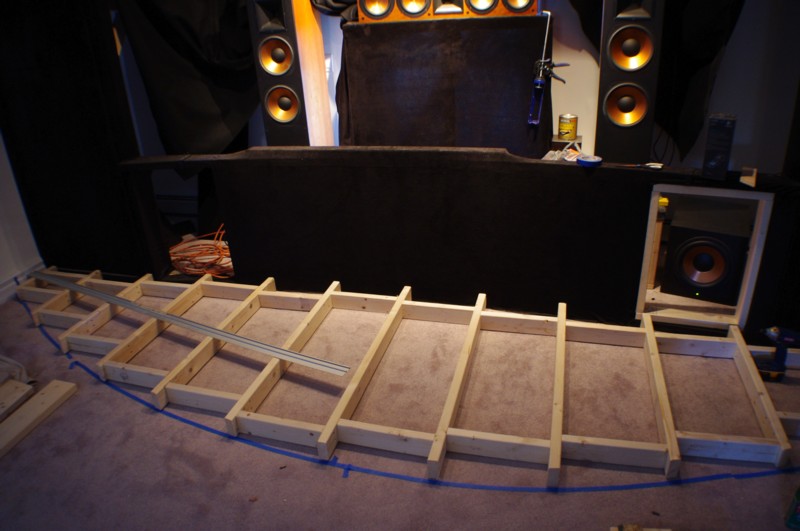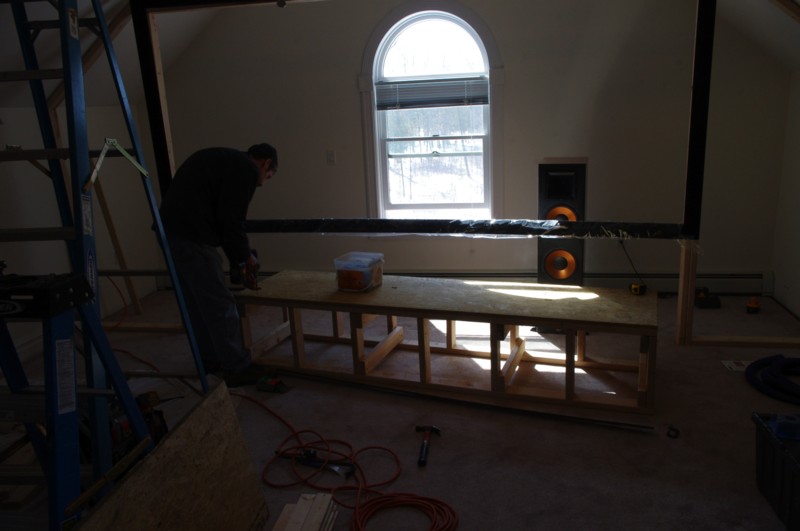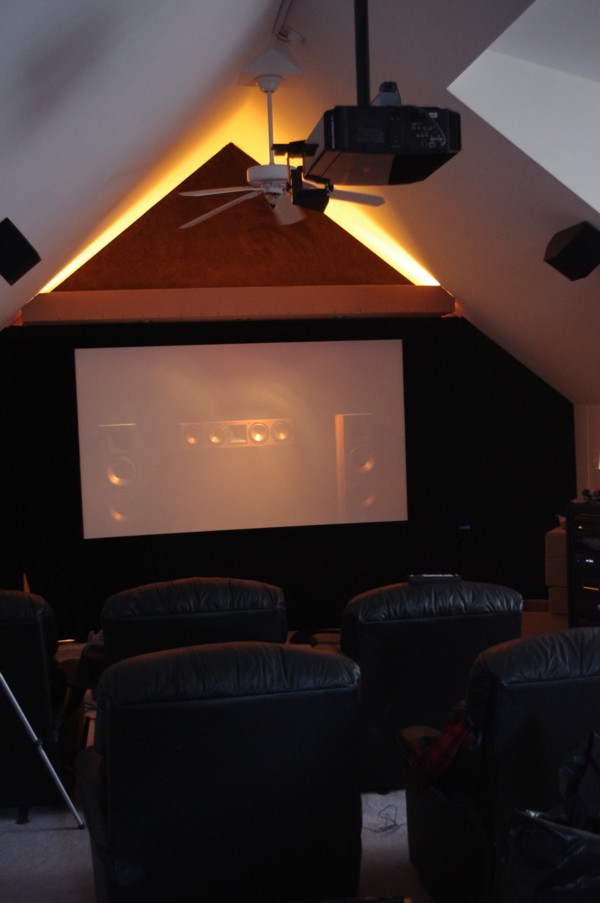 Front of room looking towards future equipment rack location

Existing Klipsch Reference Series Speakers

Back of existing room looking towards stairs. Note surround speakers on stands at ear level behind seating area

Front of room looking towards future screen wall location. Screen parts located to the right, equipment rack parts to the left

Screen built and on temp support to determine height placement in regards to slope ceiling

False wall framing begins.

Platform for speaker to allow main front 3 speakers to fire thru the acoustically transparent screen

Measuring for center channel platform height to allow center tweeter to match tweeter height of main left and right speakers.

Black draping begins to enclose screen area.

TheEquipment Rack takes shape under a watchful eye

Construction of Stage & Seating Riser

Customer requested a curved front stage with lighting below. 2x4 framing to keep stage low covered in 3/4 advantec gold plywood flooring for strength.

Second row of seating required 15" riser to see over front row. Stair located to right corner of riser. 2x6 framing with 2x8 top stiffeners and cross bracing with 3/4" advantec as in stage.

Projector & Motorized Panamorph Lens

JVC Reference RS65 projector suspended from roof framing with threaded pipe. Motorized panamorph lens is attached in front of projector. Wiring was routed in the rafter bay behind the ceiling to the equipment rack.

Wide shot of JVC Reference RS65 projector and surround speakers now mounted above the seating area for better sound. Equipment rack is seen peeking out behind wall on the right.

Screen over lights & speaker rear lighting active.

Screen over lights & front screen lights active, projector on.

Wider view of lighting before gold proscenium trim and change of overlighting to blue

Trim now attched and pained hammered gold. Blue overlighting installed and front screen lighting on. Rope light under carpeted stage is also visiable.

First Video picture, no touchup, no pause

Stay tuned as this project is still underway